September 24, 2017 § Leave a Comment
Once again, American Theatre magazine lists of most produced plays and playwrights are out.
Every season, Theatre Communications Group (TCG) – the organization of America's not-for-profit theatres – puts out a list of the 10 most produced plays, and top 20 playwrights by its nearly 500 members.  Although it covers only a segment of the American theatre scene, (because it does not include for-profit, academic, or amateur theatres) its annual lists are a quick way to get the pulse of what plays and playwrights are currently hot. That is a very useful list for performers thinking about where to put their time and energy familiarizing themselves with scripts, with names to watch, and with sources for audition material.
Who tops the list this year? The most produced playwright in America next year will be:
With a total of 108 productions scheduled, our winner, William Shakespeare!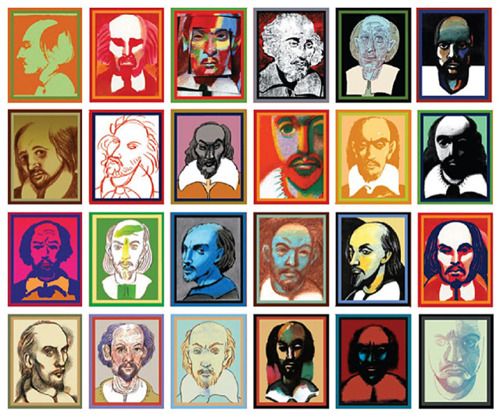 Only, as always, you have to read the footnotes to know that. Shakespeare so dominates this list year-after-year that American Theatre's editors do not officially count him. (You can read my previous annual rants on this topic, here, here and here.)
To note this fact is not to take anything away from this year's "winner," San Francisco-based playwright Lauren Gunderson. For the third year in a row she has been in the top ten list without having a major New York production, and relying on an extensive body of work rather than a single standout title. (It is also worth noting that several of her comedies, like Exit – Pursued by a Bear, The Taming and The Book of Will, have Shakespeare connections.)
BUT…for those who are counting there will 108 productions in America's professional theaters of Shakespeare's plays, vs. 27 by Gunderson. Shakespeare, in fact, has more productions scheduled than the top five "official" finishers combined.
As I try to remind my students regularly, if they are trying to decide where to put their time and energy, they would do well to place their emphasis on Shakespeare.
Oh, and one more thing. Next year's most produced individual play? No, it is not by Shakespeare – but it is about him: Shakespeare in Love is set to receive 15 productions.
Save
February 24, 2016 § Leave a Comment
I like to think of myself as a cool, objective reviewer (especially of electronic resources) but occasionally I can't help myself and just go all-in fanboy. Such is the case with my new obsession, an inspirational and exceptional resource, Clear Shakespeare: The Read-Along Shakespeare Podcast.
Created by Akiva Fox, a former Literary Manager for D.C.'s famed Shakespeare Theatre Company, this is the most genuinely demystifying tool for reading and understanding Shakespeare's plays of which I know. This is, in part, because he in unafraid to use the multi-episode format that podcasts do so well for discussing the plays line-by-line in exceptional detail. As a result, his explication of A Midsummer Night's Dream is spread across six podcasts totaling nine hours of audio. (Hamlet is even longer, with nine individual podcasts!)
So why is this so useful? Fox has one simple insight that powers everything. Most students (and even experts) don't really understand the language. Most editions don't help much. They try, of course, but glosses of all the difficult words do not fix the problem, because even when you know roughly what each word means the issue is more often grasping the entire phrase or putting those words in context.
Fox takes you through the plays, discussing one unit of meaning – usually a sentence but sometimes longer connected thoughts – at-a-time. He avoids too much interpretation, in favor of just explaining what is being said while you follow along with your favorite printed edition.
If listening to an expert talk about the language of a play for nine hours sounds more like a circle of hell than fun to you, as I admit it generally does to me, then all I can say is you haven't heard Akiva Fox do it. He is witty, entertaining, and enormously empowering. He really believes that listeners can hear and understand this language with just a little help, and studiously avoids telling you what you are supposed to think and feel about it all. This ain't "schoolmarm Shakespeare"! His site name is well chosen, because he really does make things clear.
Best of all, these podcasts are available for free. (Pitch in a few bucks if you can, but for starving artists and struggling students this guy is a godsend!) Want to see, or rather hear, why I am so gaga for him? You can listen to a sample here.
So far only Hamlet and Midsummer are available, with Julius Caesar coming next, but the plan sounds extensive.
My advice? Download old episodes as soon as possible, and subscribe so you don't miss anything in the future.
January 3, 2016 § Leave a Comment
I received a lot of wonderful gifts for Christmas this year, but my son and his fiancé found the sweet spot for my bibliophilia with what is probably my absolute favorite present – a copy of Mirko Ilić and Steven Heller's wonderful new collection of posters from productions around the world called Presenting Shakespeare.
The book's blurb says, "just as centuries of theatrical artists have reimagined [Shakespeare's] works through the lens of their own time and culture, so too have illustrators and designers been inspired to create posters that reinvent Shakespeare's well-known themes for each new generation of theatergoers." The Folio-sized volume collects over 1100 posters, representing productions from 50 or more countries.
As you would expect from designers of the caliber of the authors (if you don't know about them you should make it a point to do so soon!) the book is itself magnificently designed. The posters are grouped by title and by visual themes. They cover a span of 250 years, and are a lesson in the development of the graphic arts aside from their interest to Shakespeareans. With several visually related posters reproduced on most pages, it is easy to spend a half hour or so just contemplating three or four pages.
The selection of posters is extraordinary. Some very well known specimens, like Alphonse Mucha's design for the Sarah Bernhardt Hamlet are included, but the strength of this wonderful book is how far-ranging the choices are. The juxtapositions are visually and intellectually stimulating.
A number of additional photos of book pages can be found on one of the author's blogs.
The book is available from Amazon here:
Presenting Shakespeare: 1,100 Posters from Around the World