September 27, 2017 § Leave a Comment
Measure for Measure, Shakespeare's rhetorically brilliant but generically ambiguous "comedy," is perpetually a problem. Tyne Rafaeli, directing for co-producers, the California Shakespeare Theater (CalShakes) and Santa Cruz Shakespeare, provides a fascinating approach that does not "solve" the difficult text (and in some ways complicates it even further) but does provide a set of visual tableaus and cleverly staged moments that make it especially relevant to the Bay Area audiences and the fraught political moment in which we live.
Why the play is so difficult is no particular mystery. Shakespeare adapted a completely tragic story (from the same source that he used for Othello) then – through the addition of a couple of hoary plot devices – restructured it into a comedy. Although everything does work out in the end, the tone of the play remains predominantly dark, however, so it is hard to know how lightly to take it and what to make of the moral dilemmas it poses.
Power and Perversion
The convoluted plot is the story of a Duke who is reluctant to exercise his power to maintain order, and so temporarily turns his duties over to a puritanical deputy with no such qualms. To set an example, the replacement ruler immediately sentences a young man to death for the relatively minor crime of impregnating his fiancé before marriage. The young man's sister (a novice on the verge of taking her vows to become a nun) makes an impassioned argument for his life, which perversely just excites the cold deputy's lust. He propositions her, offering the brother's life in return. Faced with what is known in literature as the monstrous bargain she refuses. "More than our brother," she declares, "is our chastity" – a position that modern audiences, at least, do not always find sympathetic.
Oddly, the Duke is lurking about in disguise and convinces the heroine to pretend to assent, and then substitutes the deputy's rejected fiancé in the darkened bedroom. In a not-all-that-shocking twist the deputy, even though he is fooled by the substitution, still orders the execution to go ahead. The Duke has to struggle around in the background to prevent tragedy, and eventually resumes his position in order to set things right – just not until after he has convinced the young man that will have to die, convinced his sister that he did die, and convinced the hypocritical underling that he got away with it all. (Although manipulative, it is probably supposed to have a Big Yellow Taxi effect.) By the time the ending comes, when the Duke proposes to the would-be nun, the audience has been bounced between the poles of starkest tragedy and melodramatic relief several times.
Visualizing Psychology
Rafaeli imbues her production with an artificial urgency throughout, which makes it all look and feel much more like a farce. This certainly reduces the tonal whiplash we usually experience in productions of this title – but also rushes the detailed explanations of what is happening (and why) to the point that it is often far from clear to anyone not already familiar with the play what is transpiring.
What is genuinely original, and pretty wonderful, about the production is how Rafaeli makes many of the most difficult assumptions in the play more comprehensible through striking visual compositions. She stages the propositioning scene as a graphic sexual assault, sending the heroine initially into frozen shock – a haunting tableau that sums up the abuse of power and the helplessness of victims in a single image. Isabella's subsequent revulsion at the idea of having sex, even to save her brother's life, becomes psychologically comprehensible. (Given that we are living under a happily "pussy-grabbing" president, it also makes it inevitably political.)
Her brother, whose punishment vastly outweighs his crime, is played by an actor of color. Rafaeli's staging of his scenes of imprisonment with starkly contemporary details to the cell is surely meant to remind us of the injustices of our current system that disproportionately imprisons black and Latino men. A stumbling block for many Measure for Measure audiences is often that they find the overly-harsh sentence silly instead of serious, but in Rafaeli's context it is all too plausible – again speaking to both the local audience and current moment.
A Different Kind of Setting for CalShakes
Throughout the play, Rafaeli uses the broad, shallow setting to create quick visual snapshots of important moments that remind us of nothing so much as eye-popping comic book panels freezing the action into bold compositions. Although wide and flat, Annie Smart's set is both functional and effective for this purpose. It is very unlike the usual stage sets in CalShakes' outdoor location where seeing into the far distance is possible. Montana Levi Blanco's modern dress costumes often border on the whimsical. It is Kent Dorsey's lighting that ultimately makes Rafaeli's visual summaries burn into our consciousness.
There are No Small Parts
To achieve the contemporary resonance, both verse speaking and self-conscious rhetoric were sacrificed to more physical approaches. As a result, the small players were often the most interesting members of the cast, especially Annie Worden's rapid-fire turns as the Mistress Overdone, the Dogberry-like constable Elbow, the belligerent drunk, Barnadine, who farcically refuses to be executed, and Mariana, the heartbreakingly rejected fiancé of the false deputy who finally reclaims him from his own hypocrisy. CalShakes favorites Tristan Cunningham and Patty Gallagher also produce compelling and varied performances across a number of roles, as does newcomer Kevin Matthew Reyes as the brother, Claudio, and his polar opposite, the amusing pimp Pompey.
In the end, this production was a reminder that there is no such thing as a definitive staging of any Shakespeare play. There are endlessly fascinating possibilities, however. Measure for Measure is often a showcase for exceptional voices and fine verse speaking. It is almost unique to see it staged as a director's vehicle emphasizing visual pictures and physical comedy. It is hard for me to remember any production of this show that was so closely tuned to place and time in which it was presented.
September 24, 2017 § Leave a Comment
Once again, American Theatre magazine lists of most produced plays and playwrights are out.
Every season, Theatre Communications Group (TCG) – the organization of America's not-for-profit theatres – puts out a list of the 10 most produced plays, and top 20 playwrights by its nearly 500 members.  Although it covers only a segment of the American theatre scene, (because it does not include for-profit, academic, or amateur theatres) its annual lists are a quick way to get the pulse of what plays and playwrights are currently hot. That is a very useful list for performers thinking about where to put their time and energy familiarizing themselves with scripts, with names to watch, and with sources for audition material.
Who tops the list this year? The most produced playwright in America next year will be:
With a total of 108 productions scheduled, our winner, William Shakespeare!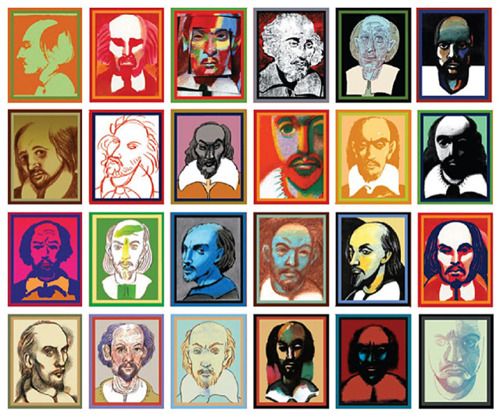 Only, as always, you have to read the footnotes to know that. Shakespeare so dominates this list year-after-year that American Theatre's editors do not officially count him. (You can read my previous annual rants on this topic, here, here and here.)
To note this fact is not to take anything away from this year's "winner," San Francisco-based playwright Lauren Gunderson. For the third year in a row she has been in the top ten list without having a major New York production, and relying on an extensive body of work rather than a single standout title. (It is also worth noting that several of her comedies, like Exit – Pursued by a Bear, The Taming and The Book of Will, have Shakespeare connections.)
BUT…for those who are counting there will 108 productions in America's professional theaters of Shakespeare's plays, vs. 27 by Gunderson. Shakespeare, in fact, has more productions scheduled than the top five "official" finishers combined.
As I try to remind my students regularly, if they are trying to decide where to put their time and energy, they would do well to place their emphasis on Shakespeare.
Oh, and one more thing. Next year's most produced individual play? No, it is not by Shakespeare – but it is about him: Shakespeare in Love is set to receive 15 productions.
Save