July 7, 2019 § Leave a Comment
Our traumatized times speak eloquently to and through Robert Currier's production of Measure for Measure for the Marin Shakespeare Company, which opened their thirtieth season on Saturday, June 28. 
Until recently, MM was relatively rarely performed. In our #MeToo moment, however, its two abused and disbelieved heroines suddenly look a great deal more relevant, making the play something of the current Shakespeare champion. 
Social Injustice Everywhere You Turn
But sexual harassment is just a small part of the social injustice Currier targets. The production also speaks to abuse of power, official corruption, passive acquiescence to intolerable behavior even by those with troubled consciences, racism, religious hypocrisy and, more directly than anything else, the terrible blight of over-incarceration that results from a toxic mix of all these ills.
Currier and the company he co-leads (with his wife, Lesley Schisgall Currier) certainly have the moral authority to make the statements they are making. Despite being a relatively small company, Marin Shakes is the largest provider of Shakespeare in Prison projects in the world, working in over a dozen California prisons. Among them is San Quentin (where this production is recognizably placed by set designer Jackson Currier, prop designer Joel Eis and costume designer Tammy Berlin) which sits about five miles from the theatre in San Rafael where the production is performed. One formerly incarcerated performer makes his professional debut in this production, while another is an artist-in-residence (and much awarded performer) with the company.
This exposure clearly informs the setting and performance of the numerous prison scenes in the production. The play's plot traces the fortunes of a young man, Claudio, who is sentenced to death for impregnating his fiancé before marriage by an overzealous, and (it turns out) hypocritical judge. Ordinarily, the interest in the play turns to the incarcerated man's sister (a novice on the verge of becoming a nun) who pleads for his case to the judge, who promptly propositions her. Claudio becomes a minor character. In this case, however, Claudio's cell is situated in the down right corner of the stage, and he is continuously visible for almost the entire play. Brennan Pickman-Thoon brilliantly keeps his character on our minds without ever stealing focus or upstaging the main action. His concentrated performance, however, reminds us how much injustice is being perpetuated simply because it is "out of sight, and out of mind."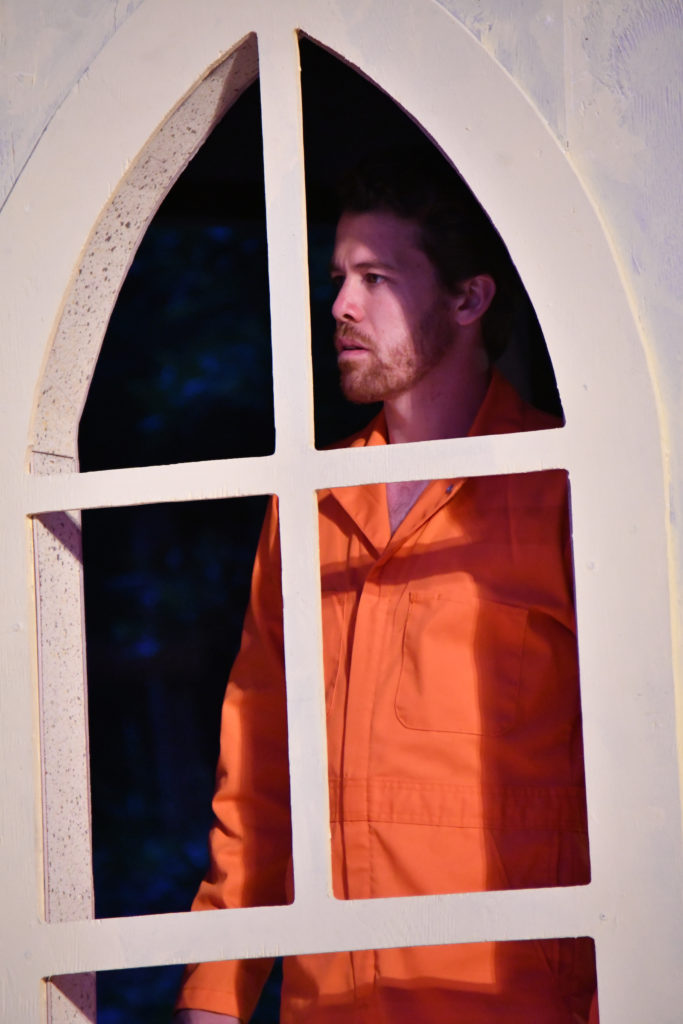 When his sister Isabella (played by Luisa Frasconi) visits, the waiting room walls chillingly host what appears to be real warnings from the corrections department that "staff and visitors will not be considered hostages for bargaining purposes," along with zero tolerance statements required by the Prison Rape Elimination Act. She and all others are subject to realistic electronic scans upon arrival at each and every entrance.
The purpose of her visits is to tell her brother than the corrupt judge (played by Joseph Patrick O'Malley) has offered to commute his death sentence in return for sexual favors, but she has declined. She asks, and expects, her brother to die for this principle, and brutally denounces him when he suggests that perhaps it would not be a mortal sin under these circumstances. 
The Problem of a Problem Play
Currier's production is undecided how to handle this, and several other incidents. MM, like its fellow problem play, The Merchant of Venice, is structurally a comedy, but much of it cannot be played for laughs anymore—if it ever could—and finding the right tone is difficult. On opening night the production frequently miscalculated how far to joke and temper the central—sexual harassment—scenes. 
Low Comedy When Its Called For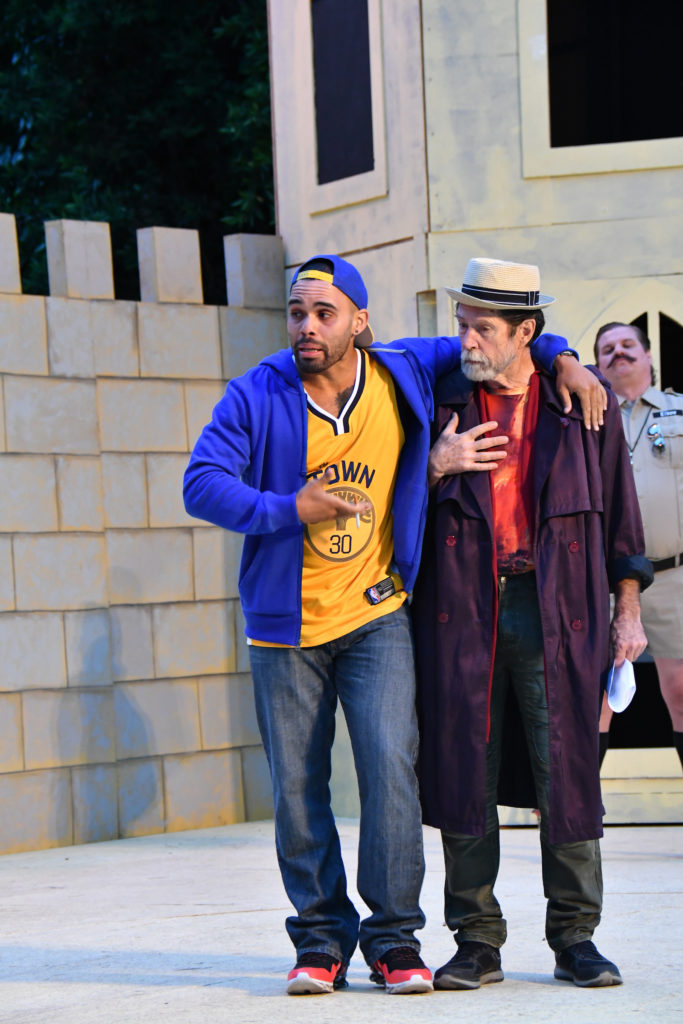 Audiences might yet steer it to a more sensitive place, especially since it doesn't need the main characters to provide comic relief. As it is, the outstanding performances in the play are by the low comedians, especially Ed Berkeley as the pimp, Pompey, who adlibs much more than is "set down for him," but with perfect timing and excellent deadpan delivery. Ariel Zuckerman as Lucio and Isabelle Grimm as Mistress Overdone were also very funny.
Big Impact
In the end, however, the production still found its impact. Currier has a knack for capturing the zeitgeist, and this production has the same nervous and uncertain feel that everyday life seems now to have. Without spoilers, suffice it to say that this production also declined (without changing any text) to offer the traditional reassuring ending. It was honest enough to make us question what will happen next.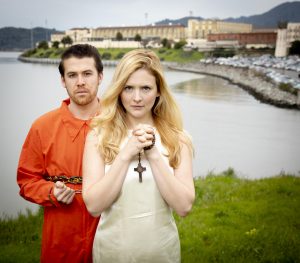 Production Information
Measure for Measureby William Shakespeare (seen, June 29, 2019)
Thursdays through Saturdays at 8 pm; Sundays at 4 pm, through July 21
Forest Meadows Amphitheatre, Dominican University of California, 890 Belle Avenue, San Rafael, CA. 
Tickets: $10 – $38, 415-499-4488, www.marinshakespeare.org.