October 2, 2016 § Leave a Comment
Teddy Spencer is a San Francisco-based actor with a Benedict Cumberbatch-ish look and appeal. He is tall and lanky, possessed of a warm baritone and radiating intelligence. He can be hilariously self-effacing, even goofy, when performing comedy but he is also a formidable tragedian. I first saw him as Orlando in As You Like It at the Marin Shakespeare Company, but it was after seeing him as a steely Iago in Othello with the Arabian Shakespeare Festival that I became a genuine fan. Now he has returned to the latter company as Macbeth in a production that places the focus squarely on him, and he is hypnotic.
The Arabian Shakespeare Festival is an emerging company under the artistic direction of William J. Brown III. Their mission is to use theatre as a cultural bridge between the Middle East and the West. (Their current production is heavily supported by a sizeable gift from The People of Kuwait.) I was enormously impressed by the previously-mentioned production of Othello, which explored the tensions of assimilating Arabs by taking seriously the Elizabethan connotation of "Moor" to imply someone of middle eastern origin. It was timely and thought provoking.
Their Macbeth is less conceptually related to their mission, as it does not directly imply an Arabian connection despite a passing reference to the Arab Spring in the director's notes, but that is possibly because any play about an obsessively ambitious strong man coming to power inevitably has more immediate connotations during this frightening election season. The evening's virtues are quite different from those of the last time I saw this company.
The Real Curse
There is a rich folklore about the cursed nature of the play, but real theatrical insiders will tell you that the main way that it is blighted is that it reads much better than it stages. Despite the high esteem in which the playtext is held, surprisingly few productions of the play come off well. To modern audiences the supernatural element is often silly instead of frightening. Bucket loads of stage blood can, and usually do, become unintentionally hilarious. Relentless misogynistic interpretations of Lady Macbeth often sink the enterprise before it really launches. The reader can find it spooky without "jumping the shark" in their own mind's eye, but it is downright difficult to make the play work when it has to be materially realized. In performance, it is best to leave a lot to the imagination.
There are some deep textual complexities that cause a lot of issues with producing the show. The only text of the play we have is from the 1623 First Folio of Shakespeare's work, but scholars have clearly established that that version contains material inserted from a much later play, The Witch by Thomas Middleton, and that Middleton is probably also responsible for heavily cutting and arranging the original text into a streamlined performance text. (Shakespeare could not have inserted the material himself, because Middleton's play was not written before he died, and therefore probably did not cut it himself either.) The version we have is full of plot holes and contradictions, with an uneven pace. The action flies by in the first half and then grinds to a slog in the second. Lady Macbeth is a powerful presence in the beginning but fades into the background once she becomes queen. Character development in the minor roles is truncated, and sometimes just confusing. It takes some very intensive dramaturgy to keep the play on track.
Keep It Simple, Stupid
Director Terri McMahon avoids many of the most deadly traps by keeping things very simple. A cast of six, performing on a virtually empty set, with minimal props, no fake blood, and evocative contemporary costume bits and pieces performs the show in a drastically cut, fast moving, version of the play. The staging is clean and efficient, with a few moments of clever theatricality. The direction is enhanced by two striking ideas: Nathaniel Andalis, who plays Banquo, continues in a highly original extension of that role to appear onstage after his murder not only as the ghost at the banquet, but also as the visions conjured by the witches, then as the embodied curses and ultimately as a physically manifest malevolent supernatural force intervening against Macbeth. It was both unfussy and theatrically effective. McMahon also chose to place Lady Macbeth's death (which in only reported in the text) fully onstage and left her body downstage center while the final duel played out. Radhika Rao avoids the clichés in her portrayal of Lady M, and is moving in her later scenes, especially in this interpolated death scene, but the production's focus is elsewhere.
Actors William J. Brown III, Kirsten Peacock and Nicole Weber do some heavy lifting by rapidly shifting between multiple characters – playing something like half a dozen each. (In a fine show of virtuosity Peacock plays both Macduff and Lady Macduff in the production, both compellingly.) The performance space at the Royce Gallery is tiny, and in combination with the small cast and shortened play, there is little spectacle. Battle scenes and other parts of the play usually populated by crowds are stripped away almost to nothing. Most of what powers a typical production forward is absent from this one altogether.
All that is sacrificed produces one overwhelming and original insight into the play, and makes it riveting. In this minimal staging, we realize that a great deal of the play is surprisingly intimate, and blossoms in this unforced simplicity. Lady Macduff has a touchingly domestic scene with her doomed son. Banquo teases and teaches his son, Fleance, in an almost casual fatherly moment of calm amidst the crisis. The Macbeths agonize over whether to move forward huddled together in a tiny hallway. In stark contrast to the histrionics usually employed, this production favors small, introverted moments.
In this tightly-focused, sometimes suffocating, atmosphere Spencer performs a beautiful miracle. He pulls us into Macbeth's soliloquies with such unwavering intensity that we actually root for this man. His performance is so contained it feels almost private, but his voice and face are so expressive it is like constantly watching him in cinematic close-up. He seductively whispers his innermost fears, dreams and delusions to us until we feel we have direct access to his damaged (and ultimately damned) soul.
This is not a performance built on charisma and starpower, although Spencer has plenty of both. It is just an actor with enormous courage letting us into his unguarded and unfiltered core. Of the many productions I have seen, this is the first time I have felt that I truly understood the human tragedy of a man who lost himself. In a very Hamlet-ish performance, Spencer fully realizes the protagonist reaching for his destiny, dancing with madness, and ultimately facing death squarely.
It is a small company with a brief run, that deserves your support and attention. Treat yourself and go see this performance.
Production information, per the Festival's publicity poster: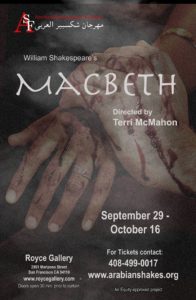 Seen Sept. 30, 2106.
Save
Save
Save
Save